Summer Horse Camp … Six weeks of barn FUN!
Our camp sessions are flexible and often include both kids who have never been on a horse as well as those that have been riding with us at the farm for a few years. New horse camp kids learn all about horses, horse safety & handling, and learn to ride. Experienced riders review horsemanship skills while advancing their riding skills and communication with their equine partner.
We strongly believe that when developing the equestrians of tomorrow, safe horsemanship and care of the animal are just as important to teach as actual riding and mounted skills.
We pride ourselves in providing a fun, safe and well-rounded horse camp experience where horse lovers enjoy their time in the barn as well as their time on horseback, all in a non-competitive environment and while making new friends!
Campers usually ride different horses daily, a great way for them to interact with and earn something new from each of our wonderfully different horses.
Daily riding instruction is geared towards each camper's current riding experience level. Other fun activities may include taking a trail ride, playing games on horseback, bathing the horses, and just enjoying a relaxed environment in the barn with the horses. Ample time for grooming, tacking & untacking, and barn chores are included in the day.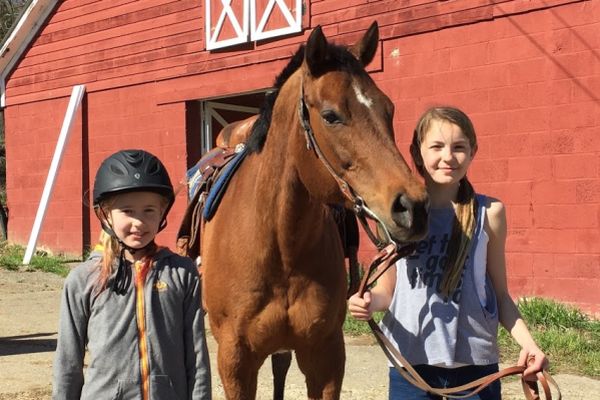 Our camp goals:
Sharing our love of horses with children and watching those individuals learn horsemanship, responsibility, leadership, & teamwork while developing their own personal life skills of confidence, perseverance, & self esteem.
Help our campers further develop a love of riding, of 'all things equine' and establish the barn as their new happy place!
Ages:
Age 6 – 16 …
Have horse experience? Great!
No horse experience? No problem … we're here to teach you!
Return Camp Forms & Payment:
Email: Cindy@VonThunFarms.com
Mail: VonThun Farms, 519 Ridge Road, Monmouth Junction, NJ 08852
Choose your week(s):
---
June 19 – 23
June 26 – 30
July 10 – 14
July 24 – 28
August 7 – 11
August 21 – 25

Cost:
$450 per week
Space is limited. Openings are available on a first come, first paid basis. Registration is guaranteed only when camp forms & payment are received. Weekly riding students are welcome to a 10% camp discount when camp forms & full payment are received by May 1st.