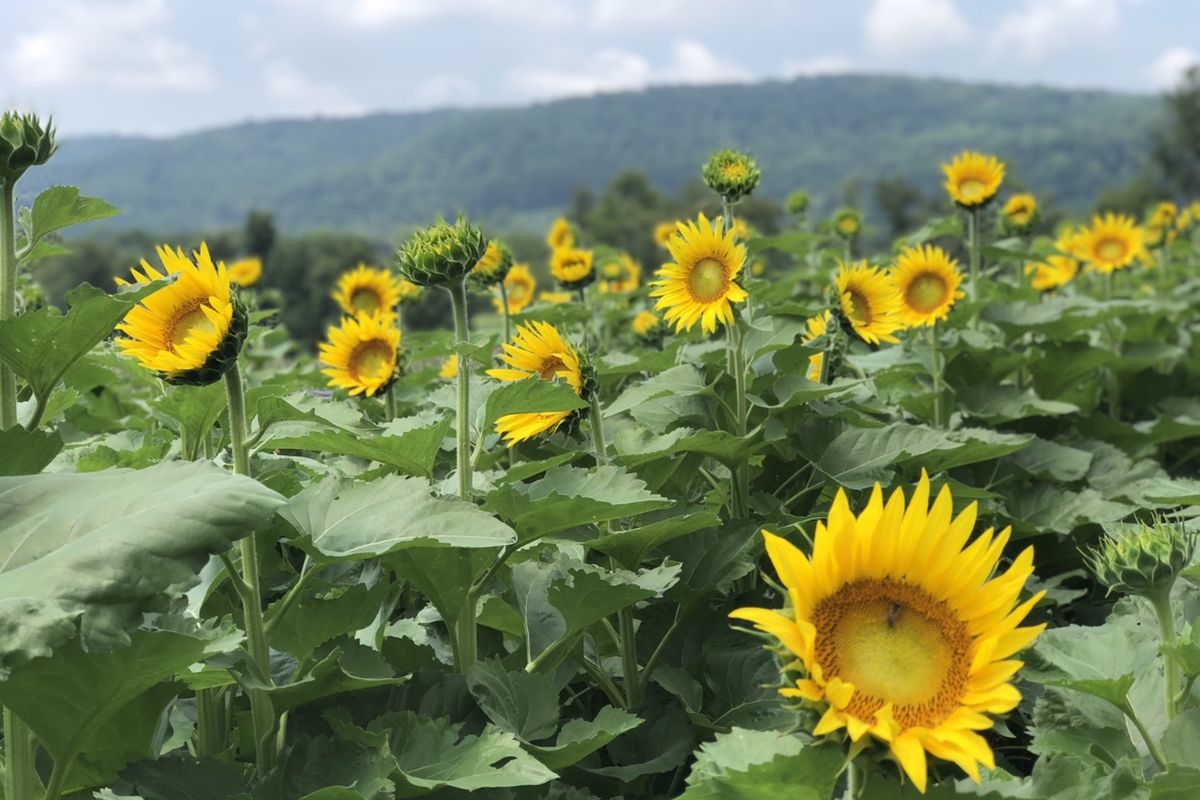 UPDATE: The Sunflower Trail is done blooming and is currently closed for the year.
Nothing says summer like the beauty of a wide open field of sunflowers! VonThun Farms Sunflower Trail is located in Washington Twp., Warren County NJ. Although some farms have sunflower mazes, we have a trail that's carved into our sunflower field. There's lots of sunflowers that are open, lots that are starting to open, and, as of today (July 30), even more that haven't even thought about opening yet!
Bring the kids, and plan to make the Sunflower Trail your summer photo op destination! The field is beautiful and the views are amazing. We hope to have the Sunflower Trail open for at least ten days, if not longer, but Mother Nature will dictate that. Here's the details…
OPENS FOR THE SEASON: Tuesday, July 31, 2018
LOCATION: VonThun Farms, 438 Route 57 West, Washington NJ, 07882 (Between Tractor Supply & Warren Co. College)
HOURS: 10am to 5pm Tuesday through Sunday (closed Monday)
DON'T FORGET: Don't forget to bring a camera. If you're planning to take photos with your cell phone, make sure the phone is fully charged! You'll be doing lots of walking, so be sure to wear comfortable shoes.
ALSO: Our farm market, cut-your-own sunflower field, and u-pick raspberry/blackberry fields are open daily (closed Monday)
FOR MORE INFORMATION: Cindy@VonThunFarms.com or call 732-986-6816
GOOD TO KNOW …
For the safety of our visitor and livestock, no pets please. (Although we'd love to allow pets, if we allow the good ones, we'll have to allow them all, even those that aren't as good as their owners say they are.)
It gets hot in the field. Bring a drink, and maybe even an umbrella on sunny days.
Wear a hat, sunscreen, and closed toe shoes. The field can be uneven in spots, and the trail is dirt.
Strollers are allowed, but may be tough to push in spots.
Please allow a minimum of 30 minutes to get to and through our trail. (Photo op time additional!)
Our farm market is open daily, 10am to 6pm.
The Sunflower Trail is NOT offered at our South Brunswick location.