To promote social distancing, we are NOT allowing professional photography sessions in our Sunflower Trail or picking fields during regular business hours.
CLICK HERE to learn about our hours and pricing for photographers, as well as guidelines you must follow when shooting at the farm. Any photographers utilizing the Sunflower Trail for their professional photography sessions during regular business hours will be asked to leave without a refund.
The Sunflower Trail – Open for the 2020 Season!
SPECIAL NOTE: The Sunflower Trail will close at 3 P.M. on Saturday, July 4th. 
Nothing says summer like the beauty of a wide open field of sunflowers! VonThun Farms Sunflower Trail is located in scenic Washington Township, Warren County NJ.
Bring the kids, and plan to make the Sunflower Trail your summer photo op destination! The field is beautiful and the views are amazing. We've planted 6+ acres of sunflowers that will provide continuous blooms through August. Although we ask that you social distance while at the farm, you're welcome to wander and linger, and take as many photos as you please. You can cut your own sunflowers to take home too!
Tripods and other professional photography equipment are not allowed in the Sunflower Trail at this time so we can assure proper social distancing for all our guests. We are offering special hours for photographers, so please, no scheduled professional photography sessions at the farm this summer during our regularly scheduled open hours.
Tickets can be purchased online or upon arrival at the farm market.
Personal Photography for our Visitors …
The sunflower trail is a special place & we thoroughly encourage our visitors to make memories & take photos! Bring your camera and  click away at the spectacular views, thousands of sunflowers & our many photo ops … just be sure to practice proper social distancing & be courteous of others. And please, no tripods as they tend to block the pathways while in use.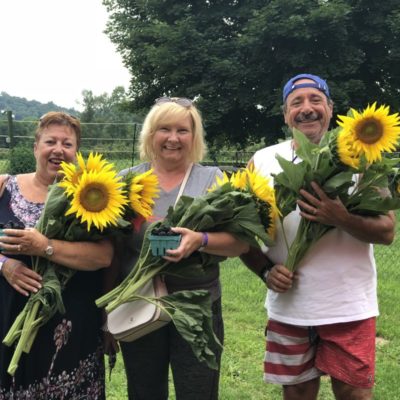 The Details …
OPENS FOR THE SEASON: Wednesday, July 1, 2020
LOCATION: VonThun Farms, 438 Route 57 West, Washington NJ, 07882 (Between Tractor Supply & Warren Co. College)
HOURS: Daily, 10 am – 5 pm
DON'T FORGET: A face covering for anyone ages 3+ in case you can't socially distance while on the trail, a camera and comfortable walking shoes
ALSO: Our farm market, cut-your-own sunflower field, and u-pick raspberry/blackberry fields are open
Sunflower Trail Pricing …
WEEKENDS: Choose your package!
Sunflower Trail & hayride: $10.99 per person, includes access to our farm animal barnyard area, a hayride tour around the farm, and unlimited access to our Sunflower Trail and photo op areas*.
Sunflower Trail, hayride, & 3 sunflowers: $15.99 per person, includes access to our farm animal barnyard area, a hayride tour around the farm, & unlimited access to our Sunflower Trail, & photo op areas*.
WEEKDAYS: $7.99 per person, includes access to our farm animal barnyard area, and unlimited access to our Sunflower Trail and photo op areas*. (hayrides are NOT available during the week)
CUT YOUR OWN SUNFLOWERS: 3 stems for $6.00; $3 per stem
*Kids under the age of 3 are free.
Good To Know …
Via the Governor's Executive Order, all visitors ages 3+ are asked to wear a mask when in the Farm Market and when heading out to the Sunflower Trail. Please wear your mask responsibly while around others during the remainder of your visit.
For the safety of our visitors and livestock, no pets please. (Although we'd love to allow pets, if we allow the good ones, we'll have to allow them all, even those that aren't as good as their owners say they are.)
It gets hot in the field. Bring a drink, and maybe even an umbrella on sunny days.
Wear a hat, sunscreen, and closed toe shoes. The field can be uneven in spots, and the trail is dirt.
Strollers are allowed, but may be tough to push in spots.
Please allow a minimum of 30 minutes to get to and through our trail. (Photo op time additional!)
Our farm market is open daily, 10am to 6pm.
The Sunflower Trail is NOT offered at our South Brunswick location.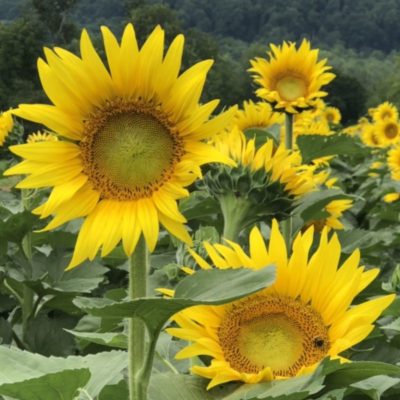 Disclaimer & Important Info …
Sunflowers are an agricultural crop and are therefore subject to blooming and growing condition variables as well as the weather. Sunflower Trail dates that are listed are anticipated and approximate, as we cannot guarantee when the sunflowers will start or end blooming. Be sure to follow us on Facebook and Instagram for Sunflower Trail updates. The Sunflower Trail is an outdoor event, and is therefore held weather permitting.
Should a complete crop failure arise or natural disaster occur, tickets will be exchanged for VonThun Farms Fall Family Fun tickets OR a VonThun Farms upcoming event OR for a VonThun Farms gift card. NO cash refunds will be given.