Horseback Riding Lessons, Leases, & Barn Time
VonThun's Equestrian has been owned and operated by the VonThun Family since 2016. Separate from VonThun's farm market and u-pick operation, the equine activities are based on the north side of the farm.  Directly across from Meadow Breeze Park on Kayharts Lane, VonThun's Equestrian is located in scenic Washington Township, Warren County, NJ. 
We offer western horseback riding lessons, showing, summer camp, birthday parties, and sales for beginner through advanced riders. We also offer an equine scout program, and a year-round educational kids program called PonyPals.
VonThun's Equestrian focuses on each rider and their goals while offering a well-rounded, safe, and educational atmosphere to strengthen the communication and achievements between horse and rider.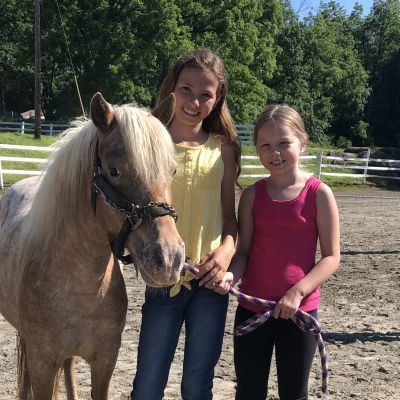 Horseback Riding Lessons …
Western riding lessons are offered for students age 6 years and older. Beginner as well as advanced riding lessons are available, as lessons are customized to the riding ability of each student. Since our lesson schedule varies from season to season, please contact us for availability and to schedule your first lesson.
Our qualified riding instructors provide a comprehensive lesson program to meet the needs of all age groups and abilities through hands-on learning. Through our riding lesson program, our instructors strive to establish a foundation of horsemanship, responsibility, communication, and confidence.
Horseback riding lesson rates:
Individual private hour lesson – $50
Prepaid package of 5 individual private hour lessons – $225 (10% discount)
Group hour lesson – $40 (Group lessons constitute 2 or more riders and are available based on ability, as per instructors approval, due to safety concerns)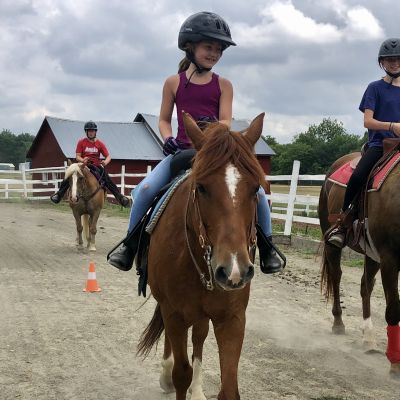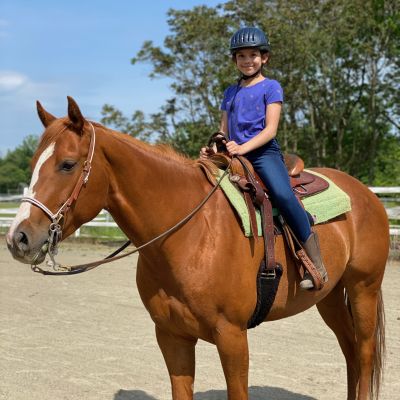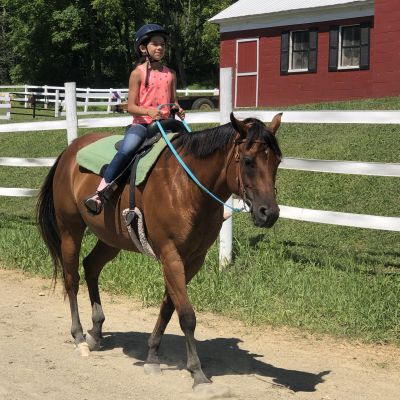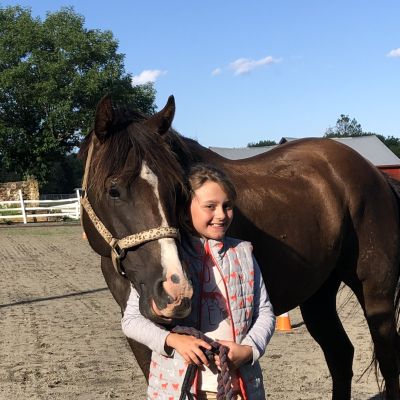 Lessons include …
Horse safety
Learning how to approach, lead and handle your horse
Learning how to properly groom a horse and get it ready to ride
Learning about and proper use of tack and the equipment used to ride
Understanding how horses think and how to communicate with them
Learning to RIDE!!
Mandatory Riding Attire…
ASTM//SEI Certified riding helmet (we have helmets for use, but after a few lessons we encourage you to purchase a helmet of your own)
Boots with a heel
Long pants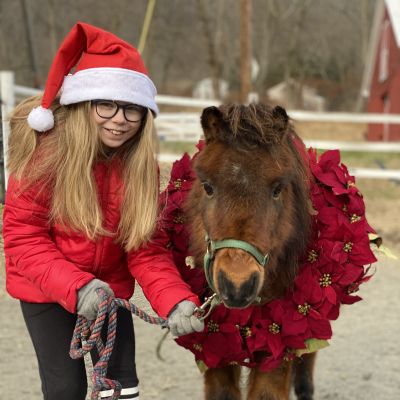 Barn Time …
Lesson students and PonyPal members can use barn time to work with horses and ponies in the arena, hand grazing, grooming, etc. (no riding) Barn Time allows for kids to spend informal hands-on time with friends while doing what they enjoy most. Barn Time is especially popular in the winter when lesson students suffer from 'barn withdrawl' due to frequent inclement weather lesson cancellations.
Barn Time is offered weekly, as well as on occasional non-school days throughout the year. (Check our events calendar for dates & details.)In the summer & fall Barn Time is held 5-6pm on Thursdays, in spring & winter it is held 10-11am on Saturdays. Additional Barn Time hours are TBA. Cost is $20 per session attended.
COMING FALL 2021… Arena Time!
Arena time will be available only to lesson students who the instructors feel are advanced enough to safely tack up and ride independently. Arena time will give lesson students the opportunity to practice their riding skills and/or ride with friends. Cost is $35 per session attended.
Horse Leasing …
We offer a simple, partial leasing program for our horses and ponies. Leasing a horse is a good way for lesson students and PonyPals members to get extra practice and experience in between their regularly scheduled barn time. It also allows kids to have that 'horse of my own' feeling without actually owning their own horse.
Non-riding lease pricing:
Non-riding leases:
Students & PonyPals members may lease only if they are capable of working with the horse independently. Leases vary as to the number of times you'll visit the farm each week to work with your horse. Please inquire about additional lease information.
Quarter lease – $100/month (once a week)
Half lease – $180/month (twice a week)
3/4 lease – $240/month (3 times a week)
Full lease – please call for availability and pricing (unlimited in-hand use)
Riding lease pricing:
Coming in fall of 2021!
Leases are available only to lesson students & PonyPals members that are capable of tacking up and riding  independently. Other riding lease information and pricing is TBA.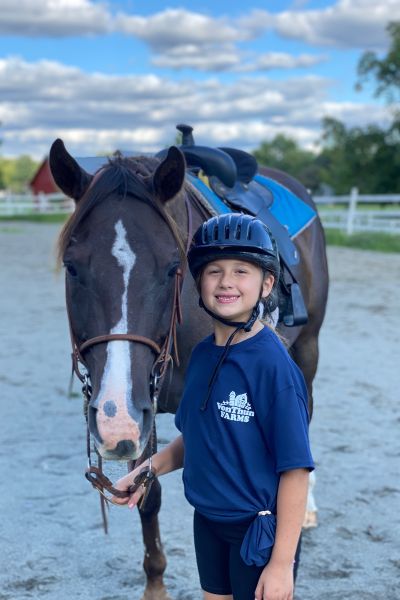 Good to know …
All persons riding or handling horses are required to have a signed Hold Harmless form on file.
Barn parents are encouraged to join our PonyPals Facebook group for up to date announcements and reminders.
Parents are expected to stay at the farm while their child is participating in any/all equine activities unless other arrangements are made.
Leases are available on a first come basis to our riding students and PonyPals members.
Parents who lease a horse for their child must be active participants in helping their child learn and perform horse ownership chores — leasing is not a drop-off activity!  We are unable to supervise a child while at the barn, and parents are responsible to monitor their child's activities.
Leasing gives you a sense of having a horse of your own as well as preferred use of that horse for riding lessons & other programs.
In most cases, leased horses are not available for use by a leasee during our lesson, Barn Time, and PonyPals, meeting times.
Through a lease, you may groom, work in-hand in the arena, and just hang out to love the horse. Leased horses may not leave the farm, be ridden, or handled by others. Other such rules may also apply.
Leasees must agree to all of VonThun Farms riding and horse care expectations.
Please note …
Full payment is appreciated the day of your riding lesson/barn time. Lesson rescheduling will only be provided for cancellations 24 hours or more in advance.  Considerable time goes into planning lessons with instructors and reserving horses for riders, therefore it is the responsibility of the rider to come to lessons and be on time.