Apple Orchard
Pick your own apples at Von Thun's this fall! The orchard opens for the season each year in mid-September. Come out early in the season for the best selection. Some varieties may be ready for picking in earlier in the season than others, so it's always best to call for availability: 908-689-3761. What's better than Jersey Fresh apples?
Everyone entering our picking fields over the age of 2 need to purchase admission to the field ($3 per person, included in Fall Festival General Admission) from the farm market upon arrival as well as a picking container. No reservations needed. Please note ALL bags, containers, baby strollers, etc. are subject to search by our staff.
1/4 Peck Bag (1-2 people, 3 – 4 lbs): $9
1/2 Peck Bag (2-4 people, 5 – 6 lbs): $15
1 Peck Bag (up to 6 people, 10 – 12 lbs): $25
Orchard Hours: 10 am – 5 pm
Apple Varieties
AUTUMN CRISP apples

are sweet with a hint of tartness. They can be used in salads, cooking, or baking.

SEPTEMBER WONDER FUJI apples are crisp, sweet, and keep well. They are an early season apple.
CANDY CRISP apples

are a sweet, juicy and very firm apple. They are thought to be a descendent of Red Delicious.

STAYMAN apples are tart and firm. An old-time favorite, they're a fantastic baking apple!
SUPER RED FUJI apples are crisp, sweet, and keep well. They are a later season apple.
SHAZUKA apples are known for their intense sweetness with a light and crisp texture.
AUTUMN GALA apples are sweet & tangy with a firm texture to them.
How to Pick Apples
We have dwarf trees that are very close to the ground. No ladders or poles are needed as most guests finds our apples easy to pick! The apples on the outside of the tree are the first to ripen, so those should be the first apples picked early in the season.  Later in the season, apples on the inside of the trees will be ripe and ready for picking.  Picking apples is easy: Roll the apple upwards off the branch and give a little twist; don't pull straight away from the tree, as this will break a branch or tear the stem off your apple – neither of which is good.
Apples with their stems intact will keep & store longer than apples without stems!  If two apples are joined together at the top, both will come away at the same time. Don't shake the trees or branches.  If the apple you are trying to pick drops, (or others on the tree drop) please pick them up. They're perfectly fine!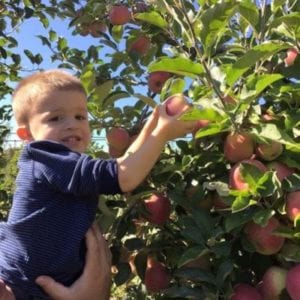 Take note:
Once picked, handle the apples gently, or they will bruise and go bad more quickly.
Don't wash apples until just before using them to prevent spoilage.
Keep apples cool/refrigerated after picking to increase shelf life. Kept cool, fresh-picked apples will generally keep weeks, but it DOES depend on the variety. High humidity helps to to keep apples from shriveling. (A wet towel placed nearby helps to maintain humidity.)
We understand your temptation for picking an apple & immediately eating it…but we would appreciate it if you would pay for your apples before you eat them! Could you imagine how many apples we would lose if we allowed each orchard visitor to eat just one apple before they paid for what they picked?Unfortunately, we just can't afford to do that. So, we hope you'll understand that as part of our orchard policy, we charge for each apple that is eaten before it is paid for.