Socially Distanced Picking 2020 … Reservations Encouraged!
Our u-pick berry fields are open daily, Tuesday through Sunday. Fields are CLOSED ON MONDAYS for field maintenance and to let the berries replenish and ripen after the weekend.
The Berries …
*STRAWBERRIES: (Available in both South Brunswick & Washington, NJ) The season has ended. 
*BLUEBERRIES: (Available in South Brunswick only) The season has ended. 
*RASPBERRIES: (Available in Washington, NJ only) We're in between varieties but have some available. Call the farm market before coming for up-to-date picking conditions!
*BLACKBERRIES: (Available in both South Brunswick & Washington, NJ) Picking now!
Although most folks are most familiar with our South Brunswick farm location, please note that our Washington location is only an hour away from South Brunswick … consider checking out our Washington location in beautiful Warren County and experience our Sunflower Trail … you won't be disappointed!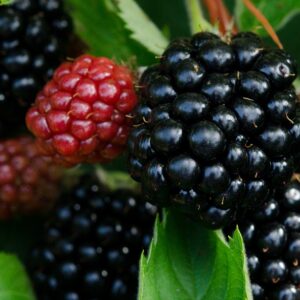 Reservations are encouraged & are listed daily …
Reservations are encouraged to help speed up your check-in process and let us know how many people to expect on a given day. If a you don't see a reservation available for the day you're looking to come, please call the farm market and our staff can give you a crop update before you arrive.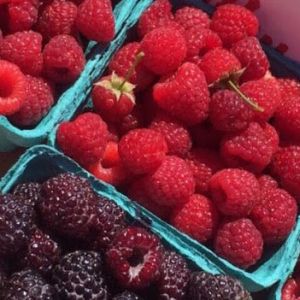 The Details …
Customer and employee safety is a top priority at VonThun's, and our current u-pick policies and procedures are structured to maintain that during these challenging times. Reservations are encouraged to pick berries. If you don't have a reservation, your group may be asked to wait until some pickers leave the field to accommodate social distancing.
All pickers are required to use a farm issued picking container. No outside containers will be allowed.
Our farm market, greenhouse, and picking fields are considered an essential business and are open. Unfortunately, our picnic, activity, and barnyard areas must remain closed at this time. Please support us as we implement the NJ COVID-19 Executive Orders that we are mandated to follow in order to remain open.
Please keep in mind that weather conditions and demand determine our daily berry supply, which is certainly challenging to predict. The weather, available crops to pick and picking conditions at both farm locations may differ. 
Pricing …
To limit contact, berries will not be sold by the pound and we will not weigh containers. All berries will be "prepaid" in containers provided by staff at check in. Additional containers can be purchased as long as there's crop availability.
$3.00 Picking Pass per person (kids 2 & under are free)
Blackberry Containers (South  Brunswick & Washington)
Raspberry Containers (Washington Only) 
Daily U-Pick Field Hours
10 am – 5 pm, last ticket sold for 4pm picking.
Reservation time slots & tickets available will vary on a daily basis, due to weather & picking conditions. Reservations are strongly encouraged. If your group arrives without a reservation, you may be asked to wait until some pickers leave the field so everyone can comfortably socially distance. 
Please Note …
Our farm market, greenhouse, and picking fields are considered essential business and are open while our picnic, activity, and barnyard areas must remain closed. We appreciate your support in helping us implement the NJ COVID-19 Executive Orders that we are mandated to follow.
Picking reservations can be made via our website. Simply choose your time slot & purchase pre-paid containers. Pickers are encouraged to have a picking reservation.
If you're sick, don't come out to pick. DO NOT visit if you are ill, have a cough, or fever.
Via Executive Order, all pickers age 3 and older are asked to wear a facemask/face covering while in the farm market and while entering the picking field. This is not a VonThun's rule, this is a mandated NJ state rule.
NO REFUNDS will be offered. We have made an appropriate number of containers available based on the ripe berries in the field. You may have to look a little to fill your container, but we promise – they're out there!
No personal containers are allowed in the field, only prepaid containers received at check-in.
Entrance to the fields are separate from our Farm Market. Look for signs to the u-pick field. Please do NOT park at the farm market.
When you arrive at the u-pick field our staff will check your reservation, review safety procedures, hand out pre-paid picking containers, and show you where to pick. Pickers are expected to maintain proper social distancing while in the u-pick field.
Hand sanitizer, hand wash stations, & porta potties are in the vicinity of the picking fields.
And …
For the safety of all visitors please do not eat the fruit while you pick. Masks should remain on.
If you touch it, you take it. Please don't touch the fruit you do not intend to purchase.
We will not weigh containers at the end of your picking. Instead it's one price for what you pick in your pre-paid container.
NO PETS except documented service dogs are allowed on the farm.
Parents are asked to supervise children to maintain proper social distance during their visit.
U-pick fields are open rain or shine. If severe weather occurs we will clear the fields until the storm passes.
Staff will be in the field to monitor that visitors are following the above safety protocols. Visitors not following these protocols will be reminded to follow directions or may asked to leave the farm. Our goal is to provide an enjoyable, safe experience for all!
Although each reservation time slot allows for an hour of picking, filling containers is usually pretty quick. We encourage folks to exit the field when done picking & containers are filled. Please, no hanging around in the field if done picking.
No picnics, eating, or wandering the farm, as those farm areas are mandated to be closed to the general public.
There are garbage cans located all around the farm. Please use them. Dispose of used masks, gloves, paper towels, diapers, etc. responsibly.
Our farm animals sure do miss you, but unfortunately the barnyard area must remain closed until permitted to open without regulation.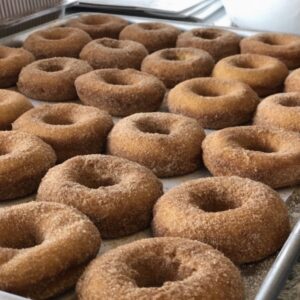 Be sure to visit our farm market!
Missing your VonThun farm favorites? Our farm market is open! (face masks & social distancing required) Not quite ready to shop in person? Just coordinate your berry picking with our no contact barnside order pick up!  Visit our online store now
MMMM… fresh produce, raw local honey, farm fresh eggs, homemade apple cider donuts & kettle corn, meat pies, jams, salsas, & LOTS MORE!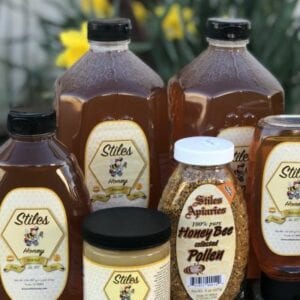 Thank you for bearing with us during these unprecedented times. They're as challenging for us as they are for you … maybe even more as we do our best to accommodate all comfort levels while trying to provide an opportunity for the special family experience and memories we all really seem to need.
And THANK YOU for your continued support! We hope to see you out at the farm again soon … as we're certain that there's sunny days ahead!