Moonlight Corn Maze & Campfires
2023 Dates
Friday, October 20th
Saturday, October 21st
Friday, October 27th
Saturday, October 28th
NEW DATE: Saturday, November 4th
Moonlight activities are open 6-10pm, last admission at 8pm
Our Moonlight Corn Maze and Campfires are always a big hit with families, youth groups, sports teams, churches and any other groups looking for something fun to do outdoors during the fall (September & October). Bring your camera, flashlights, and a jacket for a crisp fall evening on the farm. In addition to the maze, you can also take a hayride, reserve a campfire and make smores.
Weekends (Fridays & Saturdays): Our campsites are open to the general public on the last 2 Friday and Saturday nights of October. Groups of any size are welcome to join us on these nights, but you have to pre-purchase your tickets in advance using the button below.
Weekdays (Mondays – Thursdays): If you're a group of 40 or more, our moonlight activities are available to reserve on weeknights as well! A $50 deposit will secure your reservation. Call us at (732) 329-8656 to make a reservation for your group.
Hours/Admission
Entry times are staggered by half hour beginning at 6:30 pm
Corn Maze ONLY: $9.99 per person +tax
Hayride & Campfire: $15.99 per person +tax
Hayride, Campfire & S'mores: $20.99 per person +tax
Corn Maze, Hayride & Campfire: $20.99 per person +tax
Corn Maze, Hayride, Campfire & S'mores: $25.99 per person +tax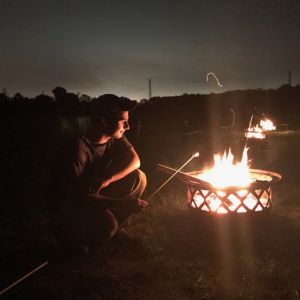 Good To Know
Corn Maze will take approximately 1 hour
Campfire & Hayride package will take approximately 1.5 hours
Our Campfire, Hayride, & Corn Maze package will take approximately 2.5 hours
Groups can spend up to one hour maximum at our campfires
No outside food or drink allowed in the Moonlight Maze or Campfires
All guests should meet at our Farm Market to receive their wristband
There is a NO ALCOHOL policy at the farm
No grills or campfire cooking
There is no electricity available in our campfire area
There are NO VEHICLES allowed beyond our main parking lot or in the campfire area