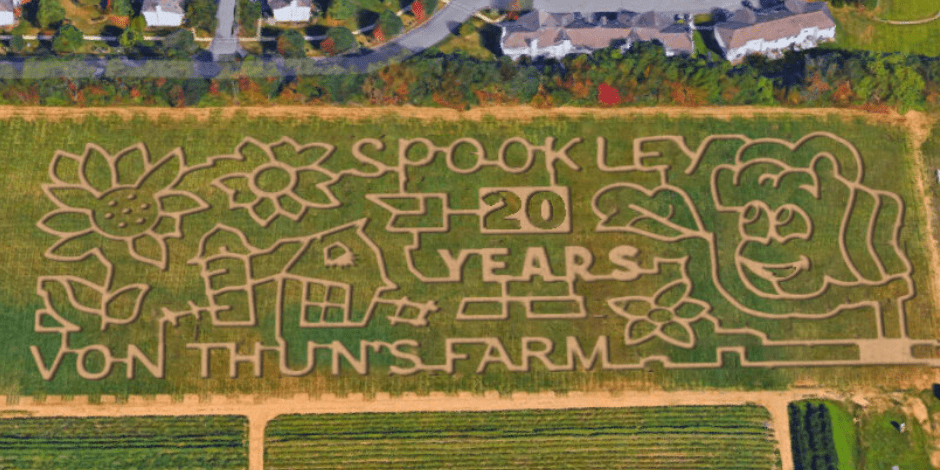 No fall is complete without a corn maze experience and we've curated an extra special one this season to celebrate the 20th anniversary of the story of Spookley the Square Pumpkin! The story of Spookley is one that is especially relevant in this day and age – a story of acceptance, kindness, and inclusivity. What started as a creative bedtime story by Joe Troiano has evolved into a tool farms across the country are using to share anti-bullying messaging to their young guests.
This year's maze design features the beloved square pumpkin surrounded by other farm fixtures. Guests can choose to enjoy either or both phases of the maze. The first phase is shorter and perfect for our guests with limited walking ability. It tells the story of Spookley and how his friends helped him overcome being the only square pumpkin in a school of regular pumpkins. The second phase is nearly five acres with lots of twists and turns guaranteed to keep maze-goers on their toes. There are ten stops along the way where you can answer a question and get a clue as to where to turn next. There's also fun, interactive games like Farm Scene Investigator (FSI) or Maize-Opoly that you can play as they go through the maze, depending on which location they're visiting.
The corn mazes at Von Thun's open for the season this Saturday, September 18th when the farms open for their Fall Festivals. The corn maze is included with all general admission tickets which also include unlimited hayrides, access to the apple orchard and pumpkin patch, and more than 20 games and attractions suitable for all ages. Tickets can be purchased online to save guests time when they arrive at the farm!
Do you and your family love Spookley? We've got lots of Spookley merch available to purchase in our farm market! It makes a great gift for a young kid or for a teacher to add to their classroom!