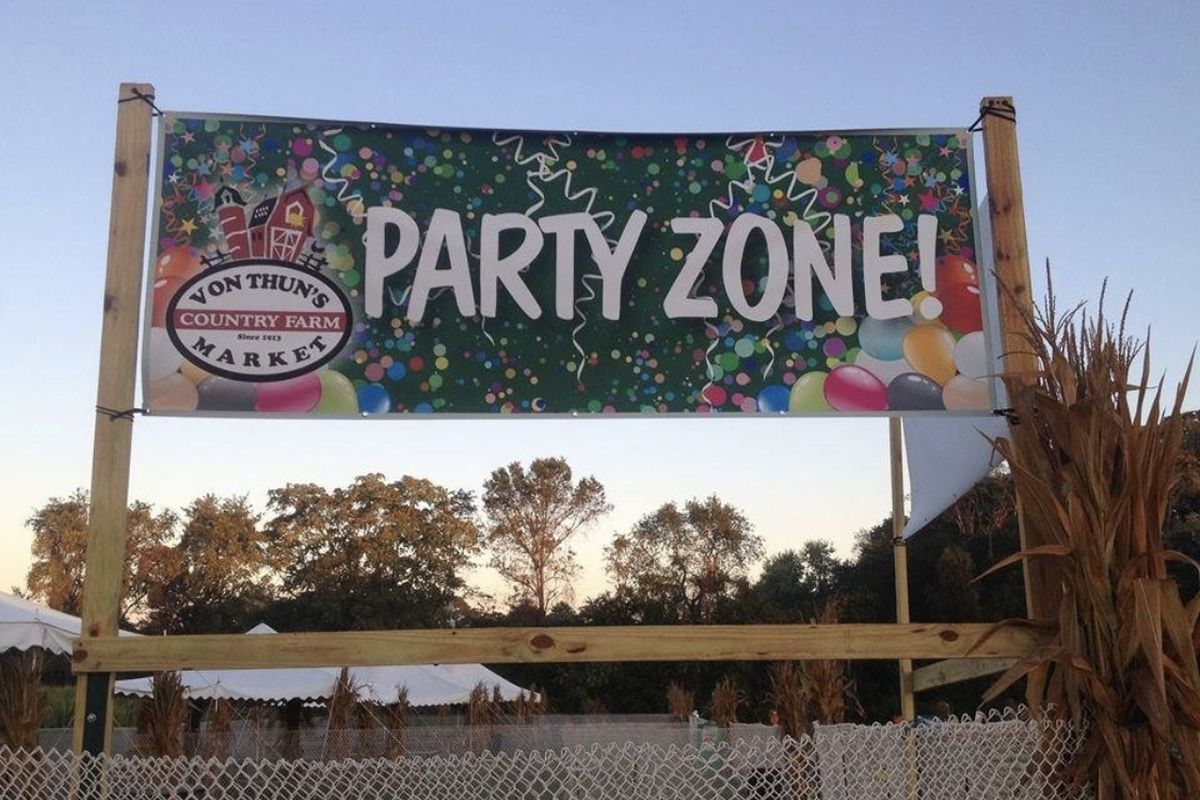 Have a special something to celebrate this fall? Birthday? Anniversary? Family reunion or corporate get-together? Gender reveal?? (YUP! They're FUN here at the farm <South Brunswick location only> with the use of our corn cannons! Join us for a fun memory-filled day on the farm … there's lots to do, and tons of fun to be had!
This fall we are offering parties at both of our farm locations: South Brunswick (505 Ridge Road, Monmouth Junction, NJ 08852 … Middlesex County) and Washington (438 Route 57 West, Washington Twp, NJ 07882 … Warren County).
For available dates, times, and pricing for parties held at the farm in South Brunswick, visit our South Brunswick party page. For available dates, times, and pricing for parties held at the farm in Washington, visit our Washington, NJ party page.
Here's the answers to our most commonly asked questions…
The information below should answer any questions you may have about hosting your event. If you need additional information, please email Cindy@VonThunFarms.com
HOW DO I MAKE A PARTY RESERVATION? All party reservations are done online. (Make a party reservation now!) A $50 non-refundable deposit is required to secure your party reservation. Reservations are not secured until the party deposit is received.
WHERE ARE THE PARTIES LOCATED? Parties are located in our Party Zone, an area to the back of our activity area that's designed to be a little off the beaten path & away from the general public.
HOW LONG IS THE PARTY? By making a party reservation, you have use of a party zone for two hours. Although the Party Zone must be vacated after that time, you are welcome to stay, as the wristband you receive is good for the entire days admission. Your party can be as long as you choose.
WHAT GUESTS AM I REQUIRED TO PAY FOR? The birthday child is free. All other individual, (kids, adults, grandparents, etc) are included as guests. All individuals that will be within our activity area/Party Zone need wristbands … the wristbands will be received by each of the guests on your guest list. Only very young kids that will not be taking part in any activities do not need to be counted in your guest list. Kids that will be going in the bounce house, riding the trikes, doing the straw maze, etc., will need a wristband, and hence, should be counted as a guest.
WHAT IS PROVIDED FOR ME THE DAY OF THE PARTY? We provide the Party Zone tent (it's a circus type tent with poles and ropes) and tables. Each Party Zone has one food table and one gift table. Picnic benches are available for seating … we provide the picnic benches based on the number of guests you are planning on. We calculate one 8'x3′ picnic bench for eight guests. We DO NOT have paper plates, cups, knives, candles, or matches readily available and on hand – please bring those items you may need.
CAN I DECORATE THE PARTY ZONE TENT AREA? Absolutely! The tent will be decorated with corn stalks. You are welcome to add, within reason, other decorations as you wish.
WHAT ACTIVITIES ARE INCLUDED FOR OUR GUESTS? There's lots for your guests to do while at the farm! View our South Brunswick fall activity list for parties taking place at our South Brunswick location, and view our Washington fall activity list for parties taking place at our Washington, NJ location.
DO WE GET A PARTY HOST TO HELP WITH OUR PARTY? No… you are welcome to plan your party as you choose. Most parties consist of eating, socializing, and having birthday cake. A hayride with all your guests is fun, but expecting all your guests to do other activities together is not realistic. Most guests enjoy the majority of activities after the party is over.
WHAT IS THE FOOD POLICY? You are welcome to bring your own food, order out, or use one of our food vendors. No alcohol of any kind is permitted. (See a list of our fall food vendors and our recommended pizza shops at the bottom of this page)
CAN WE ADD U-PICK PUMPKINS AND APPLES FOR OUR PARTY? Yes, you simply pay for what you pick. Although pumpkins are available for picking at both farms, apples are only available for picking at the farm in South Brunswick. U-pick apples will be available at the farm in Washington, NJ next fall (the trees are still growing!) Sugar pumpkins (3-4 pound pumpkins) can be purchased as party favors. Please email us about pricing.
DO YOU OFFER PONY RIDES OR FACE PAINTING FOR PARTIES? Both the pony rides and face painting are provided by outside vendors at the farm in South Brunswick. To add either to your party, simply speak with the pony ride/face painting staff when you arrive the day of your party. Pony rides are $10 each, face painting starts at $6 per person. You should pay those vendors individually that provide those activities. Pony rides & face painting will not be added to your balance due at the end of the party.
WHAT DO WE DO WHEN WE ARRIVE AT THE FARM?  When you arrive you can pull your car in the blocked off area near the farm market… just tell the parker that you are there to host a party. If you stop in the farm market or office, one of our staff will show you where the party area is & will help you get your party supplies to that area. Once you are unloaded, you will be asked to park in our main parking area. Please provide us with an updated guest list when you arrive. Have young kids that are not getting a wristband (not old enough to participate in the days activities) in one column, & all other guests in another. This will help our party attendant keep track of which party guests are yours & which guests may belong to another party. We may have multiple parties going on that weekend.
WHERE DO OUR GUESTS GO WHEN THE ARRIVE AT THE FARM? Your guests should park in the general parking area and walk past the general admission entrance, continuing towards the farm market, where our party attendant will be with the wristbands your guests will need for admission.
CAN YOU REFRIGERATE A BIRTHDAY CAKE UNTIL WE ARE READY FOR IT? Absolutely! Just let a farm employee know when you arrive.
CAN WE ALL DO A HAYRIDE TOGETHER? If you would like to do a hayride together as a group, let our hayride attendant know when the group is ready. Once all gathered in the hayride line area, the customers waiting in line will be put on the first available hayride, but your group will be placed on the 2nd incoming wagon.
WHAT ABOUT RAIN DATES? Birthday Parties are becoming more popular here at the farm and we continue to find our party areas reserved for most of the times that we offer – so we hope you can understand how rain dates for us have become a nightmare. Should you get rained our and need to reschedule yoru party, we can guarantee a limited number of picnic tables in an alternate area for your group. Most likely, our Party Zone area will NOT be available for raindates.
WHEN DO I PAY FOR MY PARTY? We can square up on final payment when your party is done. Stop by the office to do so. Although cash or check is preferred so we don't pay a credit card fee, credit cards are fine…we accept Visa, MC, Discover, & American Express.
OUR LOCAL PIZZA SHOP RECOMMENDATIONS:
They're familiar with party deliveries and are less than 5 minutes from the farm.
**Pizza Delizia: 613 Ridge Road, South Brunswick. 732-329-2277
**Capriccios: 485 Georges Road, South Brunswick. 732-329-8640
**Enzo's Pizzeria & Pasta Grill: 328 W Washington Ave, Washington. 908-689-3652
OUR FALL WEEKEND FOOD VENDORS THAT ALSO OFFER PARTY CATERING AT OUR SOUTH BRUNSWICK LOCATION ONLY:
<Be sure to call ahead for pricing & availability!>

**Street Fairs NJ (Pete Panayiotou)  StreetFairsNJ@gmail.com   973-432-3808
Sandwiches, chicken fingers, hamburgers, fries, and more!

**MikieDes Gourmet Catering (Mike Deslonde; MikieDees.com) MDeslonde@aol.com   732-421-4578
BBQ sandwiches, gyro, hotdogs, burgers, nuggets, fries

**The Weeend Fryer (Bob Herbst) BobHerbst@comcast.net   732-822-8157
Hot dogs, chicken nuggets, fries, fried oreos, funnel cake. Can add other dishes is requested