With spring right around the corner, it's time to start thinking about local farm fresh produce! Once again, VonThun Farms is proud to offer our CSA Program…and this year we're offering CSA at both our South Brunswick farm AND at our new farm location on Route 57 in Washington, NJ (Warren County).
National CSA Sign-Up Day is this Friday…we'll be giving ALL the folks that sign up (& pay in full) between now and then a 10% OFF Pick-Your-Own Pass, good for any and & all your 2016 spring and summer U-Pick purchases at our South Brunswick location.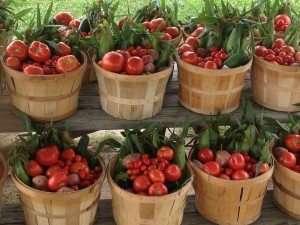 Joining a local CSA and committing yourself to weeks & weeks of Jersey Fresh produce is all the rage this year. Eating fresh, eating local, and eating healthy is easy when you buy a CSA membership…the CSA concept is simple:
You're purchasing a "share" of the season's harvest.
Each week our farm staff packages a basket of homegrown, in-season produce just for you!
Pay for the entire season of produce now, before the season starts & the crops are ready to be picked – reap the benefits when the crops are ready for harvest.  (This early payment enables the farmer to plan for the season, purchase seed and fertilizer, make equipment repairs, etc.)
Your early payment provides you the promise of eating fresh, locally grown, healthy food throughout the year!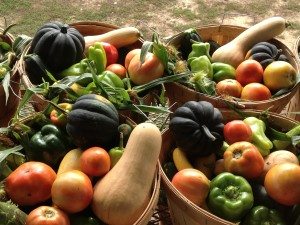 There's lots of benefits of joining a CSA…
Eat fresh, eat local, & eat healthy!
Support your local farm – know YOUR farmer who grows YOUR food!
Eat more fresh produce – buy the freshest food for your family
Experience new foods & learn to cook with them
Learn that there are lots of vegetables that aren't just good for you, they're tasty too!
Share healthy eating habits with your kids, exposing them to a variety of local produce
Cut down on the number of miles your food travels from farm to plate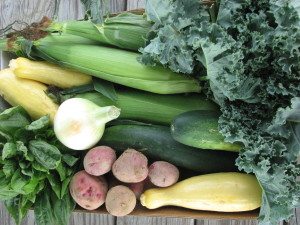 We also offer a Harvest Host Program (we'll deliver our weekly CSA baskets right to your house or to a local business) and a Jersey Fresh @ Work Program (we'll deliver our weekly CSA baskets right to your work place.) We have a 12 member minimum for both programs to deliver.
We hope you'll visit our website and check out our South Brunswick and Washington CSA details. We'll have limited shares available once we get our crops planted and accounted for – so be sure to sign up soon!