Jersey Fresh & homegrown! VonThun Farms CSA Program provides its members with weekly baskets of high quality, fresh picked, homegrown produce – grown right here at the farm, by our very own farmers!
Our Weekly Veggie Basket & CSA Program is available at both of our farm locations –
South Brunswick (Middlesex County) & Washington (Warren County)
What is CSA?
CSA is often referred to as Community Supported Agriculture or Farm Shares. When you become a member of VonThun Farms CSA Program, you're purchasing a "share" of the season's harvest. Each week our staff will package a basket of homegrown, in-season produce just for you!  CSA members pay for an entire season of produce up front before the season starts and before the crops are ready to be picked.  This early payment enables the farmer to plan for the season, purchase seed and fertilizer, make equipment repairs, and more. The early payment provides you the promise of eating fresh, locally grown, healthy food throughout the year!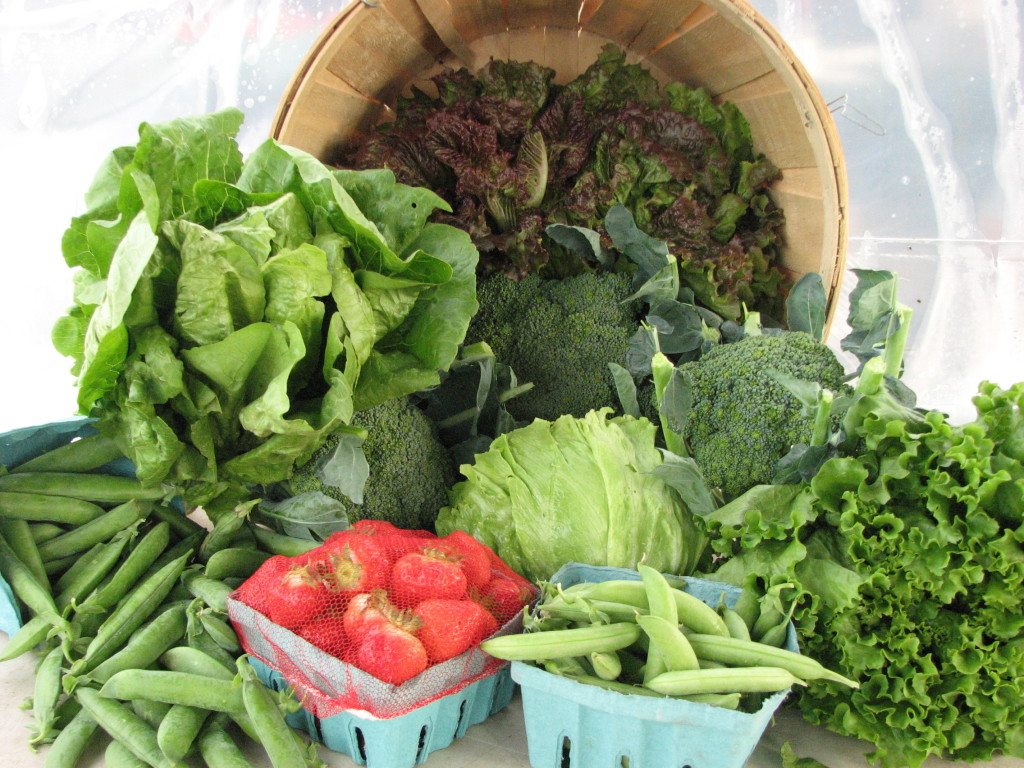 Weekly Veggie Baskets …
Our crops MAY include, but may not be limited to: Sweet corn, kale, cucumbers, pickles, lettuce, broccoli, cabbage, cauliflower, eggplant, zucchini & assorted squashes, potatoes, beans, collards, assorted varieties of peppers & tomatoes, onions, cantaloupe, watermelon, strawberries, peas, apples, beets, radishes, herbs, turnips, mustard greens, kohlrabi, carrots, swiss chard, greenhouse hanging baskets, annual flower and/or herb plants, discount u-pick passes, and fall weekend admission tickets.
Compare share sizes to see which is best for you!
View our growing practices.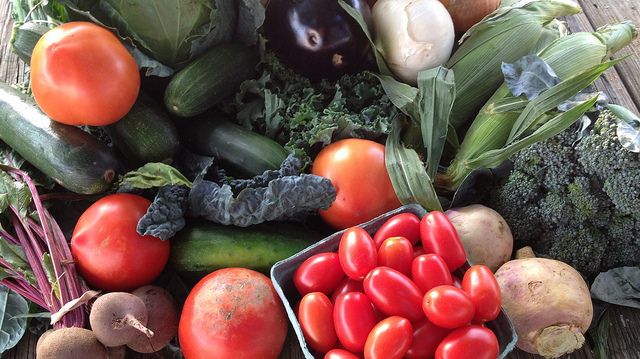 Pricing & Details …
View the pricing and details for our South Brunswick CSA location.
View the pricing and details for our Washington CSA location.
6 Week Fruit Share Option …
For a total of 6 weeks (not every week!!), subscribing CSA members will receive locally grown fruit that is packed as a special CSA fruit share.  Although this Add-On Option is the perfect companion for your Veggie Basket, fruit shares will be received 6 times, intermittently throughout the program, based upon fruit availability. Anticipated (but not promised!) fruit includes berries, melons, peaches, nectarines, & apples. The 6 fruit shares are usually received in late July, August, & early September.
Farm Fresh Egg Share Option …
Each week subscribing CSA members will receive a dozen farm fresh brown eggs with their Weekly Veggie Basket. All eggs will be brown. (Did you know that there is no difference in quality, flavor, or nutrition between white & brown eggs? The difference in the color of the shell is simply in the breed of chicken that's laying the egg.)
Homegrown, All Natural, Grassfed Angus Beef …
Our herd of Angus cattle graze the pastures at our farm in Washington, NJ and we're excited to announce that we now have homegrown, all natural, pasture raised, grassfed Angus Beef for sale daily at the Washington farm and when pre-ordered at the South Brunswick farm!  Although we don't have enough beef to offer as a CSA share yet, we do have individual items & cuts to offer on a la carte basis.
CSA Program Benefits …
Eat fresh, eat local, & eat healthy!
Support your local farm – know YOUR farmer!
Eat more fresh produce – buy the freshest food for your family 
Experience new foods & learn to cook with them
Learn that there are lots of vegetables that aren't just good for you, they're tasty too!
Share healthy eating habits with your kids, exposing them to a variety of local produce
Cut down on the number of miles your food travels from farm to plate
Is CSA right for me? 
Am I ready to make a commitment to eat farm fresh, homegrown produce all season?
Am I able to pick up my CSA basket each week (on the same day & at the same time) at one of the VonThun Farms?
Do I want to know who is growing my food, where it is coming from, & cut down on the number of miles my food travels from where it's grown to my plate?
Am I ready to explore new foods and learn to cook with them?
Will I have time to prepare & use my produce each week?
Is providing fresh, local produce for my family important to me, rather than buying supermarket produce?
Am I committed to sharing healthy eating habits & exposing my family & kids to a variety of local produce?
Am I ok with knowing that amongst my fresh picked produce, I may find an occasional insect?
Is it ok that although some produce is washed, I may still occasionally receive some crops with soil still on them?
Is CSA right for you? If so, Join Now!