Blueberries are available at our South Brunswick, NJ location only. Blueberries are traditionally available for picking from mid-June through mid-July. Watch for our Social Media postings for the start to our U-Pick blueberry season.
Prices …
U-Pick Blueberries…Our 2017 price will be determined by the current market price at the time our blueberries are available for picking.
Picking Passes… (for admission into the blueberry field)…Available in the farm market for $5 per person. Each picking pass includes a $5 credit good towards the purchase of your pick-your-own blueberries.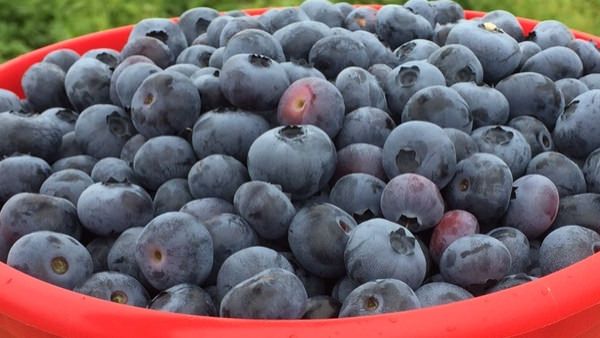 Take Note…
Select plump, firm, dark blue berries. The small berries are often most flavorful. Only solid blue berries are completely ripe. Partially white or green berries are not ripe and they will not ripen once picked.
Blackberry measurements: 1 pint = 2-1/2 cups. 1 quart = 2 pints = 5 cups.
One cup of blueberries contains only 85 calories.
It takes 10 to 15 minutes to pick a quart, if the berries are reasonably plentiful
You can easily FREEZE BERRIES that you can not use right away – just wash and lay them out on a cookie sheet. When frozen, put into a ziplock bag, removing as much air as possible. Frozen berries will keep for a few months.