Summer Camp … Four weeks of farm FUN!
Join us at the farm for Summer Horse Camp and we'll all horse around together! During your week at Camp we will learn all about the farm, pitch in and do farm chores, play games, do arts and crafts, and have lots of fun!  Farm Camp kids will pick crops and get to know the animals in our barnyard, while Horse Camp kids will learn all about handling horses and will learn to ride!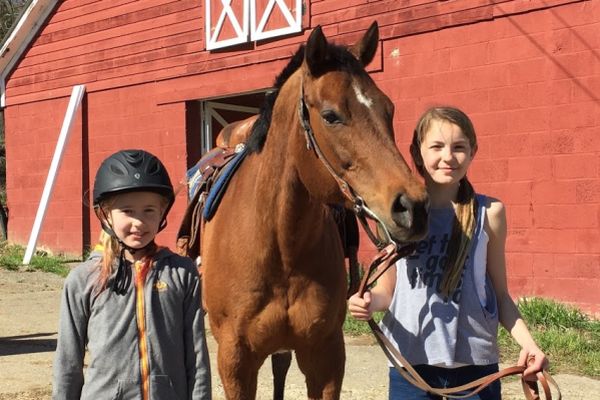 Horse Camp
Camp from 9:00 – 1:00 is packed with all barn life has to offer: horse care and handling and a riding lesson each day!  We'll horse around with all things equine … hands-on daily barn activities, horse themed crafts and fun horse games too!
Choose your week:
June  21 – 25 (Monday – Friday)
June 28 – July 2 (Monday – Friday)
July 12 – 16 (Monday – Friday)
August 2 – 6 (Monday – Friday)
Ages:
6 – 16
Cost:
$400 per week
Full season PonyPals members save $50 per week
$50 non-refundable deposit secures your spot
All balances due by June 1
Return Registration Forms:
Email: Cindy@VonThunFarms.com
Mail: VonThun Farms, 519 Ridge Road, Monmouth Junction, NJ 08852
Farm Camp
CANCELLED FOR 2020. Camp from 9:00 – 1:00 is loaded with all farm life has to offer: learn, hands on, all about our barnyard animals, understand how our food grows and pick crops straight from the field, see the farm equipment and how it's used. We'll do farm themed crafts and play farm games too!
Choose your week:
June 29 – July 3 (Monday thru Friday)
July 20 – 24 (Monday thru Friday)
Ages:
5 – 12
Cost:
$375 per week
$50 non-refundable deposit secures your spot
All balances due by June 1
Return Registration Forms:
Email: Cindy@VonThunFarms.com
Mail: VonThun Farms, 519 Ridge Road, Monmouth Junction, NJ 08852