We have a limited number of CSA shares available. To be guaranteed a CSA share, applications and a $100 deposit should be received as early as possible as applications are accepted on a first come basis.   Join Now!  See a share size comparison.
How our CSA Program works
As a CSA member you will receive 14 weeks of fresh produce during our June to August growing season. You will pick up your basket at VonThun Farms, 438 Route 57, Washington (formerly Horse Sleigh Farm), on Tuesdays between 3 & 6 pm.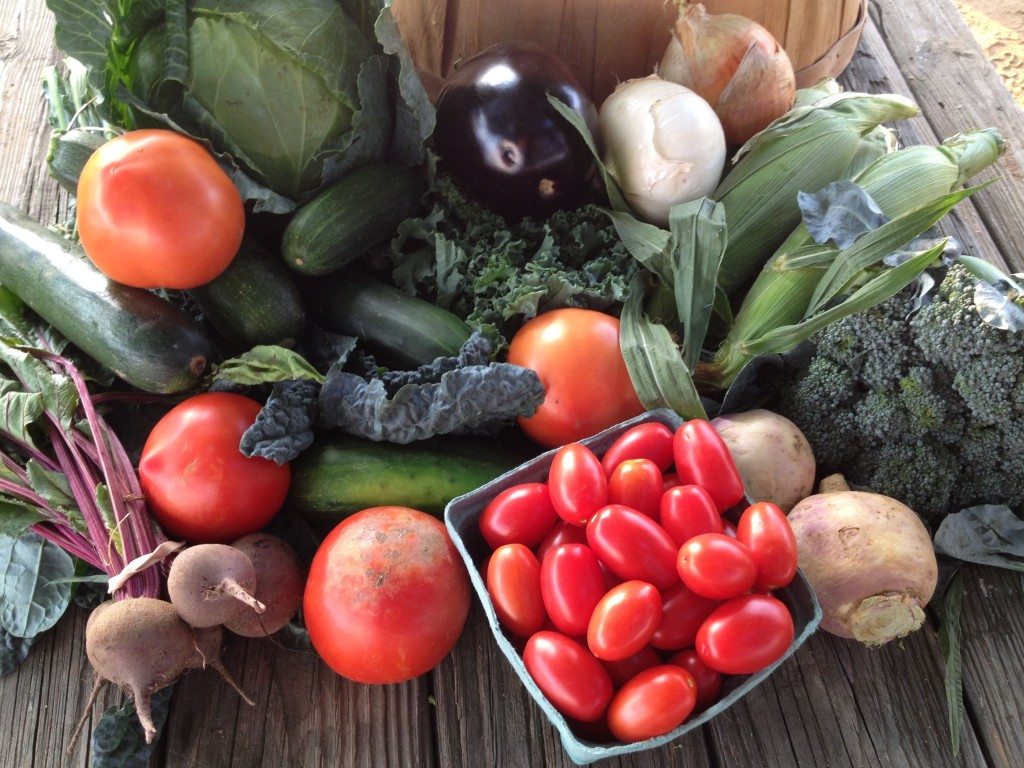 We're looking for Host Sites in the Washington area
We have host site (weekly drop off sites) opportunities for individuals, local businesses & corporate offices. Host site managers can save 50-100% on their CSA share.  Contact us if interested!
Pricing
Full

Weekly Veggie Basket Share:
(BEST VALUE!!) … Full shares typically include 6-8 types of vegetables per week. Although this share is enough for a large family, many of our members choose to share their full share with family or friends.
Half Weekly Veggie Basket Share:
Half shares usually contain 5-6 types of vegetables each week, enough for the average family, & is a GREAT VALUE that provides great savings.

Fruit Share Add-On:
$125 … For a total of 6 weeks (not every week!!), subscribing CSA members will receive locally grown fruit that is packed as a special CSA fruit share.  Although this Add-On Option is the perfect companion for your Veggie Basket, fruit shares will be received 6 times, intermittently throughout the program, based upon fruit availability.
Farm Fresh Egg Share Add-On:
$52.50 … For a total of 14 weeks, subscribing CSA members will receive a dozen farm fresh brown eggs with their Weekly Veggie Basket. All eggs will be brown. (Did you know that there is no difference in quality, flavor, or nutrition between white & brown eggs? The difference in the color of the shell is simply in the breed of chicken that's laying the egg.)

Homegrown, Grassfed Angus Beef:
We recently purchased a herd of angus cattle that we're raising at our farm in Washington, NJ and we will have homegrown, all natural, pasture raised, grassfed Angus Beef for sale in 2017!  We will release additional details soon.