New Jersey Local CSA Farm
An application & $100 deposit will secure your share!
Although we encourage full payment with your application, we know that is just not realistic for everyone. A $100 deposit will secure your share. Shares are available on a first come basis. All shares must be paid in full before April 1 at the absolute latest or a $25 late fee will be applied.
Jersey Fresh & homegrown!!   VonThun Farms CSA Program provides its members with 20 weeks of high quality, fresh picked, homegrown produce – grown right here in South Brunswick, by our very own farmers!
When you become a member of VonThun Farms CSA Program, you're purchasing a "share" of vegetables from the farm – and each week, our staff will package a basket of homegrown produce just for you!  CSA members pay for an entire season of produce up front before the season starts and before the crops are ready to be picked.  This early payment enables the farmer to plan for the season, purchase seed & fertilizer, make equipment repairs, and more. The early payment provides you the promise of eating fresh, locally grown, healthy food throughout the year!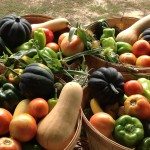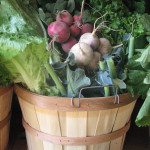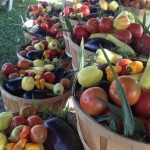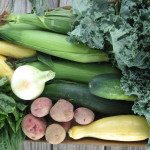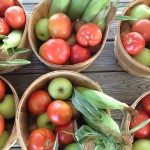 SHARE SIZES…
Full shares typically include 6-8 types of vegetables per week, enough for the average family, & is our BEST VALUE. Half share usually contain 5-6 types of vegetables each week, enough for a small or young family, & is a GREAT VALUE that provides great savings. Personal shares most typically contain 4-5 types of vegetables each week, and is designed for individuals or 2-person families. View a COMPARISON of our various share sizes.
SHARE COSTS…
Full share –$595  (Which works out to under $30/week…BEST VALUE!!) Half share – $395 (Which works out to under $20/week…a GREAT VALUE!!) Personal share – $295 (Which works out to under $15/week)
GENERAL CSA PROGRAM INFO…
CSA season duration – 20 weeks, starting May through September (tentative) CSA box pick up – Wednesdays or Thursdays, 2-7 pm (Pick your day…but the day you choose stays the same all season) CSA payment – We have a limited number of CSA shares available. To be guaranteed a CSA share, applications and a $100 deposit should be received as early as possible as applications are accepted on a first come basis. Our 2015 crops MAY include, but may not be limited to: Sweet corn,  cucumbers, pickles, lettuce, broccoli, cabbage, cauliflower, eggplant, zucchini and assorted squashes, potatoes, beans, assorted varieties of peppers and tomatoes, onions, raspberries & blackberries, melons, strawberries, peas, apples, beets, radishes, herbs, and various greens.
CSA HOST SITE OPPORTUNITIES…
—CLICK HERE for host site opportunities for individuals & or local businesses. Host members can save 50-100% on THEIR CSA share! —CLICK HERE for information about our Jersey Fresh at Work Program. Any local office or business can sign up to be a weekly CSA drop off point for their employees. Program coordinators can save 50-100% on THEIR CSA share!
BENEFITS OF JOINING A CSA PROGRAM
Healthy eating is the main benefit of joining a local CSA Program…but CSA Programs carry more benefits than that…take a look!
IS CSA RIGHT FOR ME?
CSA isn't for everyone. It's a great program…if you're committed to it. View our quick list of questions to help decide if joining a local CSA Program is right for you.
FAQ
Get the answers here to our most frequently asked CSA questions!
SAMPLE CSA BASKETS
View & compare our weekly Full, Half, & Personal size CSA baskets full of produce.
JOIN NOW!
Access our CSA application. Host site applications can be found by following our Host Site link located above.